The Boilers are made in Poland to an extremely high standard by a company that started in the 1980's. They supply Scandinavia, continental Europe and the UK and have recently quadrupled the size of their factories to keep up with demand. Orders take 6 – 8 weeks and are delivered direct to you from the factory. The boilers have been certified to burn many different types of wood and straw and are thus eligible for the UK's RHI scheme run by OFGEM. Being able to burn such a variety of materials (we believe our boilers are the only ones in the UK which can burn this variety) gives the user very flexible fuel choices. Depending on boiler size, logs can be burnt in the round up to 2.8 m in length, either one or two round bales, or two Hesston bales can be loaded at the same time meaning huge amounts of energy can be released quickly when high heat demands such as grain drying are needed.
The boilers are designed to live outside in all weathers (they even have integral gutters!). This means there is no need to build new sheds or convert existing buildings (saving valuable building space to be let out or used for farming or other income generating purposes). Being standalone also reduces the effort of trying to fit boilers and associated equipment inside buildings which can be inherently tricky for bulky and heavy equipment saving the hire of specialist kit needed to manoeuvre them into position. Trying to erect buildings over boilers can also be challenging, especially when trying to seal the roof around the flue.
Boilers can be made in any colours to match existing buildings with a number of lay out configurations to best suit the site. We can also supply them with a powder coated flue and mast to blend into the background.
All we require is a firm level base and a supply of clean water and electricity.
On arrival, the straw burners are unloaded by crane and bolted together which is normally completed by lunch time. The flue can then be fully assembled in the afternoon, if the plumbing side is complete the boiler can be filed with water, complete its first burn and be commissioned within a few days of delivery. See a typical boiler installation here:
The Control room which sits next to the boiler comes pre wired with a fuse board, internal and external lighting, power sockets, LCD external tank temperature read out (handy to monitor temperatures when driving past) and all pumps etc. meaning less time and money is spent on site getting the system up and running.
As with all biomass burners, there is an element of maintenance required. The chamber needs the ash removing from time to time and the heat exchange tubes need periodically cleaning with the brush provided. The frequency of this will depend on how hard the boiler is worked and the quality of the fuel. Allowing a few hours a month is usually all that's required. Due to the simplicity of the boiler there are virtually no moving parts, two fans and two pumps – that is all. Their simplistic.
design is what appeals to farmers, other than a grease gun for the chamber's door hinges, no specialist tools are required!
The straw burner's chamber sizes can be seen below. All chambers are square.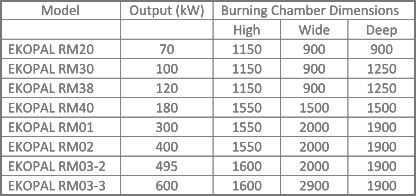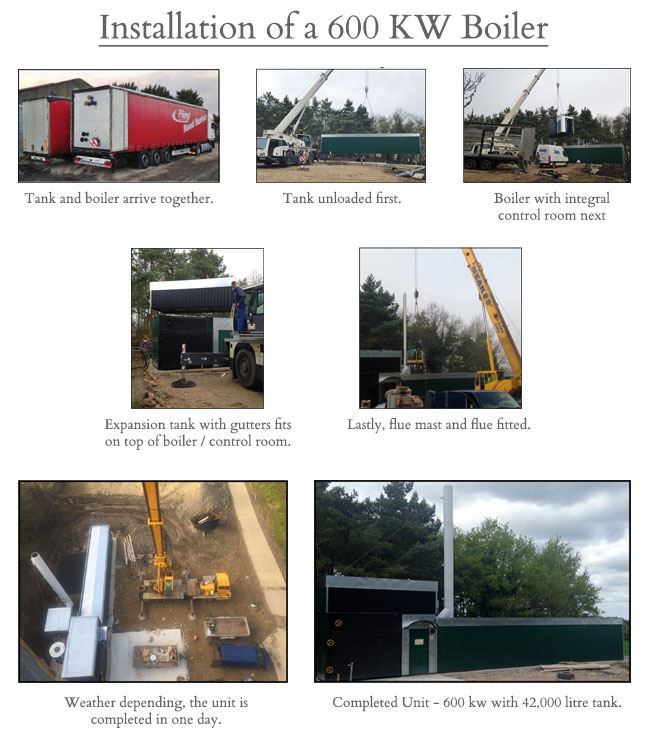 StrawBurners.co.uk is a trading name of PedigreeProperties.co.uk, proudly offering the same ethics and approach to clients that has kept Pedigree Properties at the top of their field for many years.